"I remember distinctly an image of–we were sitting on his couches, and I was looking at his pant leg and his perfectly creased pant," Brooks says, "and I'm thinking, a) he's going to be president and b) he'll be a very good president." David Brooks of
National Public Television, Radio and Sartorial Club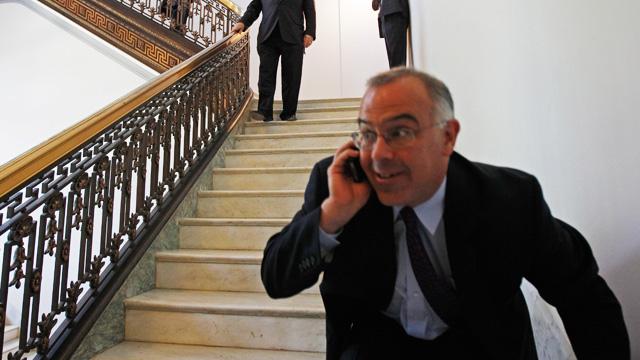 President Barack Obama (1.) do have sharp Hart Schaffner and Marx britches, Dave, and (2.)they are and have been ablaze for some time. That must be a rule with the 'Right Side of History' crowd - the Howard Zinn addicts who despise anything and everything about being an American -Sharp pants creases and and an inability to recognize the truth, even it falls like an Acme safe on one. David Brooks appreciates those things. He and George Clooney are
Dope
!
Me ? I don't think that the tailor makes the man, nor do I believe fabricating slick sentences makes good government. President Obama certainly does, as do far too many people, because he is living the life mapped out in Thomas Carlyle's
Sartor Resartus
- the tailor, re-tailored, a goofy tale of fact and fiction tripping over themselves. Inconvenient truths need not apply.
President Obama is the guy who was transformational - he is - Charlotte, Raton Rouge, Tulsa, Chicago, Brooklyn, owe so much to the man who burned racial bridges in America from Henry Louis Gates to Charlotte, North Carolina.
Obama said that he only knew about the Hilary Clinton e-mail kerfuffle from watching the evening news. Really? None of the Big Three networks covered that at all. Well now it turns out that the cool kid from Hawaii and leader of the Choom Gang had some fire to his smoke screen:
President Barack Obama used a pseudonym in email communications with Hillary Clinton and others, according to FBI records made public Friday.
The disclosure came as the FBI released its second batch of documents from its investigation into Clinton's private email server during her tenure as secretary of state.
The 189 pages the bureau released includes interviews with some of Clinton's closest aides, such as Huma Abedin and Cheryl Mills; senior State Department officials; and even Marcel Lazar, better known as the Romanian hacker "Guccifer."
In an April 5, 2016 interview with the FBI, Abedin was shown an email exchange between Clinton and Obama, but the longtime Clinton aide did not recognize the name of the sender.
"Once informed that the sender's name is believed to be pseudonym used by the president, Abedin exclaimed: 'How is this not classified?'" the report says. "Abedin then expressed her amazement at the president's use of a pseudonym and asked if she could have a copy of the email."
Huma said, 'What?" Huma said, 'How is this not classified?'
If that is not a 'smoking gun,' it most certainly is a pair of snappy worsted wool's a'creased and a smoking!
It has been this south side Chicago Irish Catholic (end abortion) Democrat's opinion since meeting Barack Obama in 1996, that the man is not terribly bright - glib, self-important and corporately polished like many middle management suck-ups, sneaks and sycophants, but not all that smart.
Not very smart people do very well in our secular political society - we stopped being a culture in 1973 - by sticking to the script and doing and saying exactly what the public relations cats instruct.
Dick Durbin and Mark Kirk are two examples. President Obama is the top of this pyramid.
The smoking strides of our President will not matter much. It will be a wedge for some and an annoyance to most.
I will say this -President Obama has never let me down. He has lived up to and exceeded my expectations.