I don't have a Nobel Prize. Yet. Could happen. A former Illinois State Senator, currently residing at 1600 Pennsylvania Avenue in D,C. has one. He's the very same gent who asked me 'Where's the Gate?," when asked to climb into the boxing ring at an amateur boxing show in the old
Saber Room
on 95th Street in Hickory Hills, Il. In 2000, this celebrity trophy presenter did not remember that one climbs through the ropes of the square ring - pretty confusing in itself, for some, that term. Barack Obama is now Mr. President.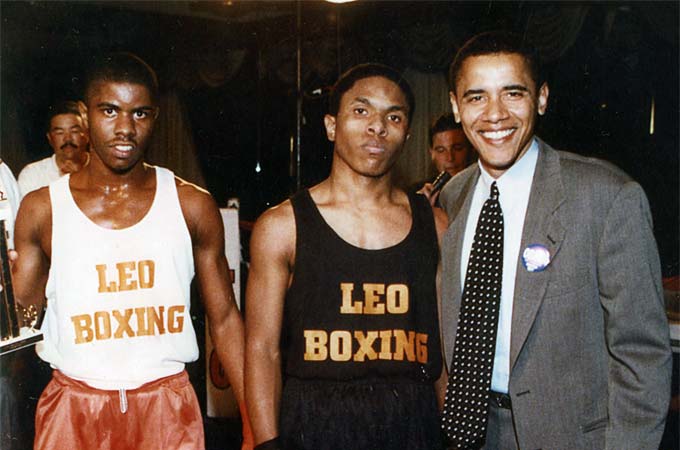 Back then in 2000, Illinois State Senator Barack Obama was looking for any opportunity to get his face and name out there - that's politics. My task that night was to steer our celebrity trophy presenters to ring just before the bout -" Senator, the referee will raise both kids' arms because it is an exhibition. I'll have both trophies near by on the canvas - hand one to each and then give your spiel."
Illinois State Representative Kevin McCarthy(ret.), a Leo Class of 1968 went before Mr. Obama. Prior to McCarthy, two Chicago alderman and Chief Tim McCarthy who dove in the path of bullets meant for Ronald Reagan awarded trophies to the kids.
Nobel Peace Prize Laureate to be and future leader of what we then called The Free World, asked me, "How do I get in there? Where's the gate?"
I smiled that sort of busy " YOU GODDA BE$HIDDING ME smile and then realized that Senator Obama was confused.
"You climb through the ropes, like in Rocky and all those boxing movies, Senator."
"Oh."
He was fine after that, but he was later elected President and awarded the Nobel Peace Prize.
I mentioned this incident when people asked me why I could not back Obama for President; they said, " Who are you? Some @#$%ing genius? Anyone could get they wrong." True, maybe this guy can be President.
Well, here we are in 2015!.
A little girl was murdered by ISIS(L) only hours ago. A Jordanian pilot was put to the torch last week. Japanese gents were beheaded.
The guy who looked for the gate at the Saber Room blamed Crusades.
More importantly 70 years after Leo High Graduates like Lou Knox killed SS men in Italy, Bernie Ingersoll recovered from Battle of Bulge wound and three score and more of their schoolmate gave their lives, Jews are refugees once again.
There is a worldwide Kristallnacht ( The Night of the Broken Glass) signalling another wholesale slaughter of Jews. This Kristallnacht is not sparked by the cries of
Seig Heil
nor limited to German states but by an prayer ( Takbir) shouted
allahu akbar!
This atrocity is worldwide and religious.
President Obama is the same young ambitious guy who does what he is told. President Obam is told to do everything by Valerie Jarrett; simple as that.
Jews are fleeing
Paris, London, Berlin
and even
Dublin
Here is Barack Obama's reply to the Retro Exodus,
PRESIDENT OBAMA
: "My first job is to protect the American people. It is entirely legitimate for the American people to be deeply concerned when
you've got a bunch of violent, vicious zealots who behead people or randomly shoot a bunch of folks in a deli in Paris.
"
That's the Obama I know - whithout Valerie Jarrett he'd go on and on " Jews are folks - random folks.
Islamist savages are just bunch of knuckleheads . . .probably Tea Partiers and Ferguson haters . . religious zealots like Catholics through history . . .who burn and lynch black folks, lie Dr. Ben Carson and Col. Allan West . . .as American as a Clinton Eastwood western . . .random Jews can go whereever they want . . .not to Gaza . . .or here . . . random Jews aren't Dreamers . . ." until 2017, when he boards Air Force One to Hawaii.
Obama still looks for the gate.