1944 -
n October 21, 1944, as heavy rain and autumn winds pelted the five boroughs, President Franklin Delano Roosevelt, approaching an election for an historic fourth term, toured through fifty-one miles of New York City streets in a large motorcade. With his wife Eleanor at his side, the aging President defied terrible weather to greet his fellow Americans from an open car (and sometimes without a hat). "There was no doubt," the
Times
wrote, "that he wanted to be seen by as many New Yorkers as possible."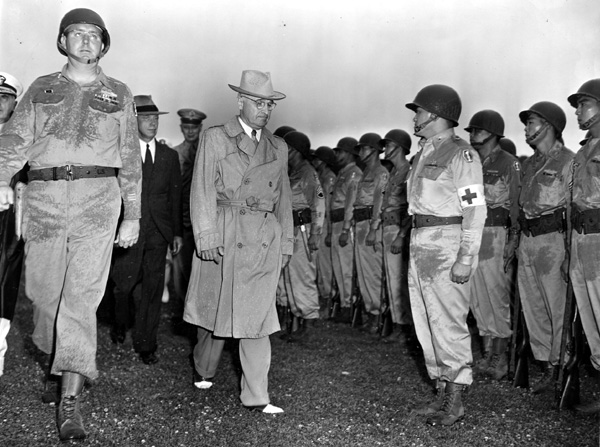 1946 -
On a rainy Washington DC day in July 1946, President Harry S. Truman presented the Presidential Unit Citation to members of the segregated 100th Infantry Battalion/442nd Regimental Combat Team with the words, "You fought not only the enemy, but you fought prejudice, and you have won." Now more than 65 years later, in a ceremony on November 2, 2011, Congress will award its highest civilian honor to these same brave men by granting the Congressional Gold Medal, collectively, to the 100th Infantry Battalion, the 442nd Regimental Combat Team, and the Military Intelligence Service. With the awarding of this honor, a whole new generation will learn about the heroism of this group of Nisei soldiers—many of whom gave their lives to prove their patriotism to a country that had forsaken them and their families by forcing them from their homes and putting them in American concentration camps. It is an honor that is coming not a moment too soon: like all Nisei who experienced first-hand the traumas of World War II, many are no longer with us.
1952-
President Eisenhower and Sargent Virgil Hutcherson, Squad Leader, Co. "B", 15th Infantry Regiment, 3rd US Infantry Division, eat dinner in Korea.
December 4, 1952.
2013 -
After an opening statement from Prime Minister Recep Tayyip Erdogan (REH'-jehp TY'-ihp UR'-doh-wahn), Obama offered to get him an umbrella. Erdogan declined.
But minutes later, the rain seemed to distract Obama. He asked for a pair of Marines to come hold umbrellas for him and his guest.
Obama joked that he had a change of suits but wasn't so sure about the prime minister.
Depends?
2013 - Never mind.
2013 - Transcendent, Aspirational and dry as an FDR martini