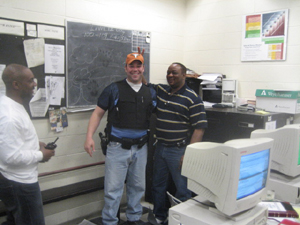 Sgt. Eddie Howard with TAC Officer Bill Murphy fighting gangs, guns and drugs in Pullman, Roseland and Altgeld Gardens.
Real Chicago Motto-
Victima Urbem et Urbem de Percussores
/Victim City a City of Thugs!
Three teens and a women were shot in the Gresham neighborhood only hours after a bench trial before Judge Clayton Crane declared Sgt. Edward Howard guilty of slapping a spitting thug.
Despite the loudly trumpeted and hosanna-ed enlistment by the City of Chicago of the gang-banger pensioners who are CeaseFire and the phalanx-ed precision marching bow ties of Calypso Louis Farrakhan's Fruit of Islam through the streets of Auburn Gresham on Monday, three teens and a woman were shot in the Gresham neighborhood.
On October 10, 2010, a nineteen year old waste of DNA was arrested and cuffed for trespass on private property at 7904 S. Vincenses, a corner intersection known for its history thuggery. This waste of DNA spit at Sgt. Eddie Howard, CPD. The sergeant gave him a couple of slaps in self-defence( HIV;Hepatitis/ TB/Air-borne pathogens of all variety) and the thug and his Mamma called the Independent Police Review Authority and Chicago's Lawsuit Lotto Lawyers - that is standard operating practice for thugs in Chicago. Get a slap and get a payoff. Mayor Daley was always happy to pay. Superintendent Jodi Weiss loved to play with thugs and had an afternoon tea with Gangster Royalty in the Garfield Park Conservatory. Daley and Weiss tossed a twenty five year veteran to the jackals.
Why not? It got Chuck Goudy, Frank Main, Mary Mitchell and community organizers off of Daley's back. In fact, Daley did all he could as Mayor to geld police authority and cozy up to Progressives. Progressives hate cops and love thugs. You will never hear of G. Flint Taylor, Locke Bowman, or Jon Loevy taking up the cause of an Officer Mette, when they can Free Mumia!
Chicago thugs are free to murder, so why not spit in the face of police officers? Call the
Independent Police Review Authority!
There is also a Police Board comprised of lawyers, consultants, and a Reverend. Here is their charter:
The Police Board's primary powers and responsibilities include:
Deciding disciplinary cases involving allegations of police misconduct.
Holding monthly public meetings that provide an opportunity for all members of the public to present questions and comments to the Board, the Superintendent of Police, and the Chief Administrator of the Independent Police Review Authority.
Nominating candidates for the position of Superintendent of Police to the Mayor
I see nothing about support for police officers (link below).
In 2007, the Chicago Police Department was gelded by Mayor Daley's Chicago City Council following wildly publicized cases of individual police misconduct. The City of Chicago Independent Police Review Authority was established. Since 2007, Chicago's murders have dominated the news, with the exception of a few days in May.
Chicago Police were allowed to conduct themselves,
as they have always done so,
with professionalism and courage in order to make the investments of City Chicago's NATO Summit remain free of any negative focus. Supt. McCarthy became George Washington and his troops Sons of Liberty, until the NATO folks took their goody bags home and then they became Hessians again.
Chicago Cops are between a $hit and a sneeze.
The Chicago Police Officers are targets with bulls-eyes on their backs manufactured by Cadillac Commie lawyers, academic frauds with piles of money looted from family foundations through Northwestern and University of Chicago, later-day IF Stones and John Reeds writing smarmy and fatuous columns about rogue racist cops and systemic racism and provided to the thugs with tax-dollars, from the cops themselves, as well as the citizens of this City of Victims, by cynical, or stupid politicians.
The killings will mount, not just continue, because the nodders and the ninnies who eat up the nonsense poured out daily by the media and the university mouthpieces with
easy
money in their wallets, have louder mouths than the millions of citizens of this our City of Victims.
Sgt. Eddie Howard, CPD, like so many other good people in this City of Victims, might have helped prevent the shootings in the Gresham neighborhood last night. Sgt. Howard, until he was entrapped by a video that tells only the redacted version of incident at 79th & Vincennes last April, and the officers of Gresham 6th District protect the neighborhood. Sgt Howard was tossed to hyenas who created
Chicago, The Victim City
by Mayor Daley and Jodi Weiss - October 2010, when the incident occurred -
That is far more plausible than the
Million Dollar March to Pay CeaseFire
, or the Jew-baiting Fiddler in the Bow-Tie helping anyone but themselves.
http://www.coachwyatt.com/chicagocops.htm
http://hickeysite.blogspot.com/search?q=thug+comfort+zone
http://chicago.cbslocal.com/2011/04/15/police-sergeant-charged-with-hitting-handcuffed-man/
http://www.iprachicago.org/
http://www.cityofchicago.org/dam/city/depts/cpb/AnnualReports/PoliceBoard2010AnnReptEng.pdf