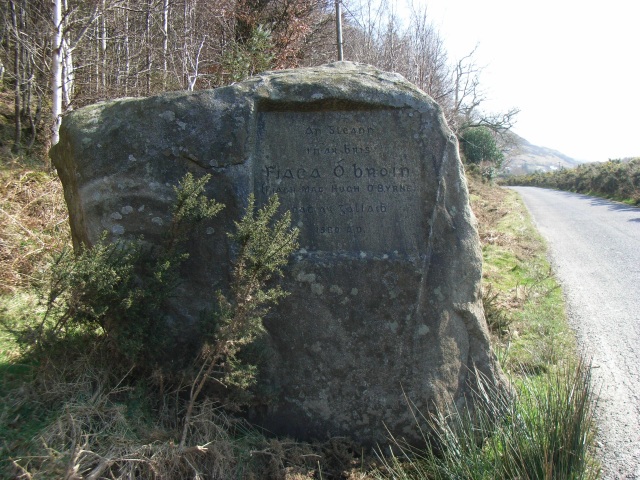 Memorial to the 1580 rebel Fiach McHugh O'Byrne, Glenmalure, Co. Wicklow.
I was getting coffee this morning at the White Hen on 103rd & Artesian. In line behind me was a young Irish painter humming a tune very familiar to me. In fact, I played the song for years on banjo and guitar and sang it as well as my baritone allowed. While getting change, I turned to the young man, " Great song."
" Brilliant, " said he.
The tune was a piper's aire from the 16th Century with lyrics added during the 19th Century about a defeat of Elizabethan armies at Glenmalure, in County Wicklow Ireland. Elizabeth was ethnic-cleansing the native Irish Catholic population in order to plant good Saxon Protestant stock on Irish soil. It never took for many reasons. Try as well as they could the monarchs and dictators ( Cromwell & Son) of Perfidious Albion failed to stamp out the Catholic Faith in its western occupied territory and kill of the Celtic inhabitants.
The best version - Planxty -
Christy Moore (vocals, acoustic guitar, bodhrán), Dónal Lunny (bouzouki, guitars), Andy Irvine (vocals, mandolin, mandola, bouzouki, hurdy-gurdy, harmonica), and Liam O'Flynn (uilleann pipes, tin whistle)
( "
A fine melody to start the morning, but kindly explain the picture of a sunny shore with a palm tree that made it into the slide show presentation" ;-) Dan Kelley, Chicago attorney, wit, gad-about and spend-thrift
N.B. - Palm trees flourish in Ireland due to the gulf stream.
Lift Mac Cahir Og your face,
You're broodin' o'er the old disgrace
That Black Fitzwilliam stormed your place
and drove you to the ferns
Gray said victory was sure,
And soon the firebrand he'd secure
Until he met at Glenmalure
with Fiach McHugh O'Byrne
Chorus
Curse and swear, Lord Kildare,
Fiach will do what Fiach will dare
Now Fitzwilliam have a care,
Fallen is your star low
Up with halbert, out with sword,
on we go for, by the Lord
Fiach McHugh has given the word
"Follow me up to Carlow"
See the swords of Glen Imaal,
They're flashing o'er the English Pale
See all the childer of the Gael,
Beneath O'Byrne's banner
Rooster of the fighting stock,
Would you let a Saxon cock
Crow out upon an Irish Rock,
Fly up and teach him manners
Chorus
From Tassagart to Clonmore,
There flows a stream of Saxon gore
And great is Rory Og O'More
At sending loons to Hades
White is sick and Gray is fled,
And now for black Fitzwilliam's head
We'll send it over, dripping red
to Liza and her ladies
http://www.planxty.ie/
http://homepage.eircom.net/~nobyrne/Feagh_McHugh_%20Forgotten_Leader.htm