The nattily attired young gentleman with his mug facing his Grandpa is Master Jake Joyce of Chicago, IL. Jake is the son of Jamilah and Mike Joyce.
Mike's father-in-law, The Toast of London and the World, gave him sound counsel on marriage, boxing, and fatherhood -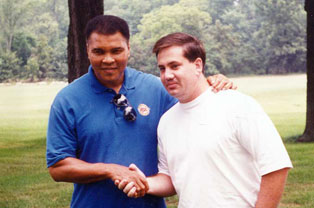 Young Master Joyce did not accompany Gramps to London.
Muhammad Ali is so hot that following his last birthday celebration the site of that fete - the fabled Franconello's at 102nd & Western here in Chicago - was closed due to fire. CFD officials determined the cause of fire to be caused by a gas leak, but this attendee feels the cause may have more to do with the boxing luminaries collateral effect upon the environment.
Muhammad Ali lit up London last night -
The handout photo provied (sic) by Beyond Sport shows soccer player David Beckham, right, and former boxer Muhammad Ali, center, together at the Beyond Sport Summit in London to present the inaugural Generation Ali Beyond Sport Award. The boxing legend and the former England captain presented the award, which recognizes Service, Leadership, and Action in the community, to Matiullah Haidar at The Grange Hotel, London. (AP Photo/Action Images for Beyond Sport
LONDON --

Muhammad Ali moving people to tears by starring again, however briefly, at the Olympic opening ceremony - this time in London? That really would be something.
Only ceremony director Danny Boyle and a few well-informed others will know for certain if British newspapers are wrong with their speculation that Ali could play a role on Friday night.
He surely won't, as he did at the Atlanta Games, light the Olympic cauldron. Ali, 70 and imprisoned by Parkinson's disease, seems far too frail for that now. And one imagines that Boyle, an Oscar-winning filmmaker, is clever enough to realize that it would be foolish and crass to try to recreate that Atlanta moment as poignant and powerful as anything that happened on the Olympic fields of play in 1996.
But even a glimpse of Ali in London's Olympic Stadium would be, well, just wow. The former heavyweight champion's presence this week in London - he attended an award ceremony on Tuesday - seemed to lend credence to the notion that he might somehow be involved on Friday.
Young Master Joyce is seen here with the late Angelo Dundee who mentored and trained Grandpa - a surrogate Great Grandpa Angelo.
Jake's Dad runs the Leo Boxing club and Celtic Boxing*.
here on the south side of Chicago and is responsible for mentoring a score of Golden Gloves Champions, Pro Boxer Thomas Hayes, Team USA Boxing Captain Lamar Fenner, U.S. Army Boxing Captain, Iraq and Afghanistan combat veteran Sgt. Marvin Carey and beautiful mother and sisters
run both Jake and Dad - as intended.
God Bless this family and every family.
*
Celtic Boxing Club Gallery
The Celtic Boxing Club of Chicago had it's beginnings on the city's South Side in 1993. Due to the success of the program, Coach Mike Joyce started a youth outreach program at his alma mater Leo High School to help troubled teens get on the right path in life.

The Leo High School Boxing club was formed in 1996 and has evolved over the years into one of the finest boxing programs in the US. Here we have collected images of the both of the clubs. The first gallery is at Leo High School. The next two pertain to Coach Mike Joyce and Chicago's Celtic Boxing Club.

Click on the image to enter the galleries.
http://www.celticboxing.com/Chicago-celtic-boxing-club-gallery.php