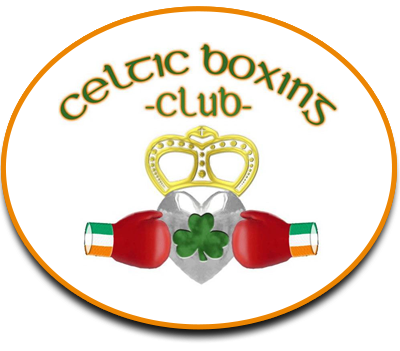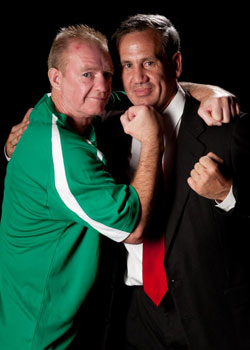 Boxers Dicky Ecklund and Mike Joyce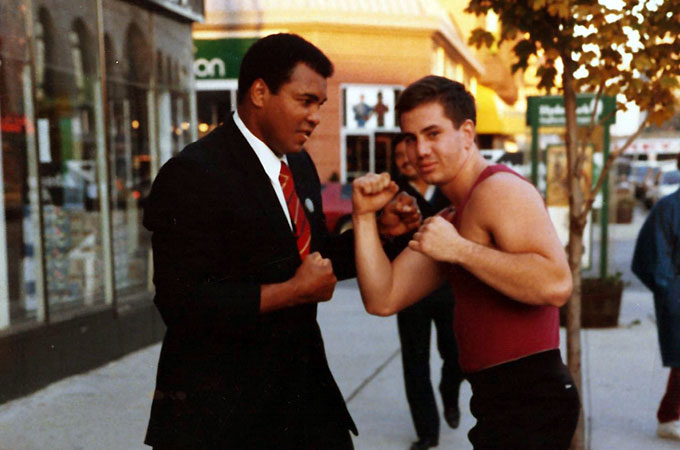 Mike Joyce and his Father-in-Law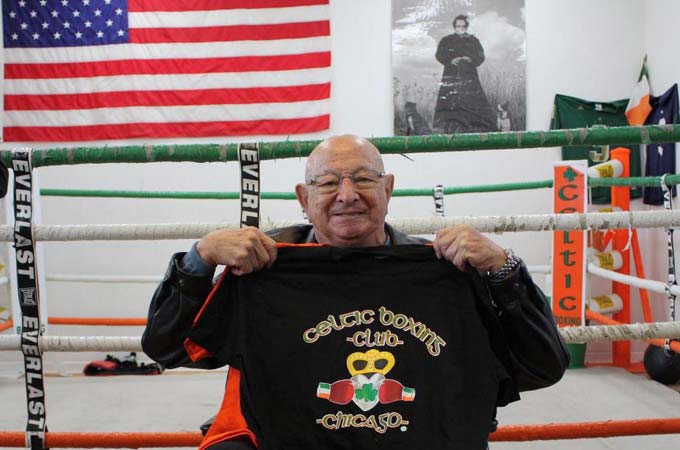 Mike's Father-inLaw's Boss and Trainer the late Angelo Dundee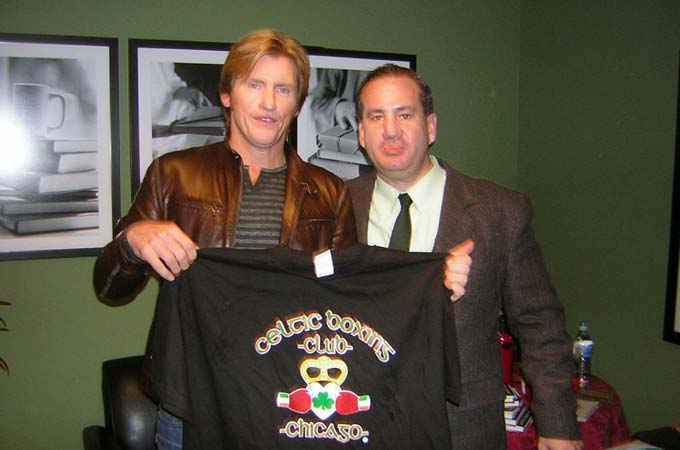 Mike Joyce and Denis Leary
Mike sparring with boxer and NFL great Tommy Zbikowski in the Leo Boxing Gym
You never know with whom Mike Joyce will bring around. One time it might be Dicky Ecklund and another it could be Willie Nelson; yet again philosopher professor and boxing journalist Gordon Marino and Rhodes Scholar/Song-smith/actor and Golden Gloves Champ Kris Kristofferson. More than likely you will witness Mike's vehicle
du jour
packed with an ethnic assortment of Pops's cheeseburger eating eight year olds after a work-out at Celtic Boxing Gym, or African American scholar tough guys from Leo High School.
This I know and have experienced. Mike Joyce is the head boxing of Leo High School, as well as founder and operator of Celtic Boxing Club and Celtic Youth Charity Foundation. I know that celebrities* who actually do something for other people are going to join the those of us do just that 365 days a year at Bourbon Street on March 13th. For the price of ticket you get to watch great boxing, mingle with great people, chow-down of the wonderful spread provided by Chicago's # 1 Charity Venue - Bourbon Street -groove to the great sounds provided by the political Godfather of Worth Township Johnny O'Sullivan's DJ gear, spill some over flowing beverage and help youngsters develop the confidence, the skills, the work-ethic and recognition of others less fortunate that only boxing in the square ring provides.
Only the Squares Won't Be There!
Celtic Youth Charity Fundraiser
Boxing Exhibition
Thursday march 13th 6:30-9:30
115
Bourbon Stree
t Merrionette Park
Donation $30 adults $15 under 18
* Charity Fundraiser-Boxing Exhibition-music, buffet, open bar
* Donation $30. adults $15. under 18
*
* Proceeds to benefit Celtic Youth Foundation a sports program whose mission is to coach and mentor young individuals in order to promote health, fitness, work ethic, self respect, respect for others and a sense of community in these individuals.
* Through our boxing and other after school activities we seek to offer internships, mentorships, scholarships and apprenticeships to deserving youth who participate in our program and adhere to our high standards.
* In the past we have had our youth train alongside police officers, state's attorneys, firefighters and other first responders. The results of this interaction between at risk youth and members of the public service community have been outstanding.
* Virtually 100% of our program's participants have gone on to college, the military or organized labor unions.
* We are now expanding our program and desperately need your help to do so. We are counting on members of government, business, organized labor, educational institutes, professional sports organizations, the clergy and the media to become involved with our program.
* What we are seeking from you is assistance with mentoring, tutoring, financial assistance, employment opportunities and the use of your good name and that of your organization through sponsorship.
* What we offer in return is the gratification that you will receive knowing that you have made positive difference in a deserving young person's life. Your efforts will also result in safer and stronger communities.
* Please consider assisting The Celtic Youth Foundation at whatever level of participation you can commit to in helping our youth.
* Thank you so much for your consideration in becoming involved with us in our program. Any level of support is sincerely appreciated and guaranteed to make a difference.
* The Celtic Youth Foundation has applied for recognition as tax exempt under section 501(c)(3) of the Internal Revenue Code and anticipates receipt of same within the next 180 days. The Celtic Youth Foundation anticipates that donations to the Celtic Youth Foundation are tax deductible as charitable contributions to the fullest extent allowed by law.
115 Bourbon Street
3359 West 115th Street, Merrionette Park, Illinois 60803
View Map · Get Direction
* The term applies with this caveat - Great People Don't Act Like Big Shots. I have yet to hear a great person say 'Do you know who I am?' Don't You?