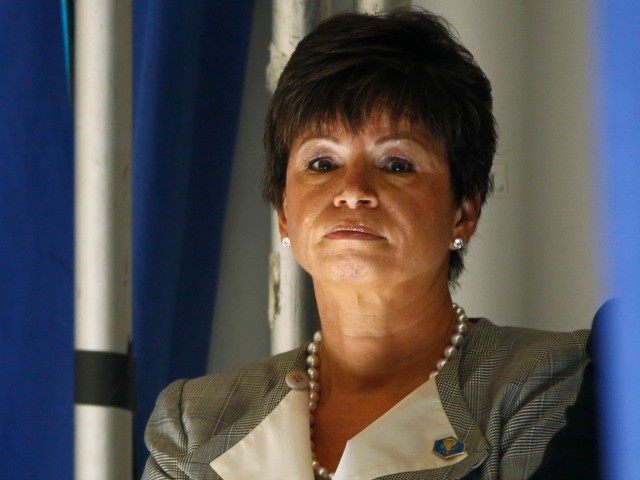 No one is more powerful in this nation than Valerie Jarrett - no one. Why? No one with the job of asking questions and getting answers has ever asked - you know, journalists.
Why? Because, she's
Valerie Jarrett.
But, Why so much power and influence.
Because, as Chicago's only real journalist still on the job with a newspaper in this Rube Burg,
John Kass
explained to three score Chicago business and charity leaders last Friday, every editor and every columnist but Kass at the Chicago Tribune wet their britches over the very thought of Barack Hussein Obama.
It is very much the same at Chicago Sun Times, which should be able to boast the most talented crew of investigative reporters in this town. Instead, the media
micturating minions
give Obama and every person who ever made a buck from his careerist activism get a pass.
So, the Pope will need to just take it and like, while he is treated like Ted Nugent at P.E.T.A. brunch.
President Obama's senior advisor Valerie Jarrett says that negative publicity surrounding the Vatican's unease with some of the guests expected at a White House welcoming ceremony has not soured the excitement of Pope Francis' first visit to the United States.
"Oh my goodness, no," Jarrett told ABC News . . .
The Vatican last week expressed discomfort over some of the guests who are expected in attendance -- reportedly concerned by the optics that could be created if the pope is photographed with transgender activists, the first openly gay U.S. Episcopal bishop or a nun who will be on the South Lawn for the ceremony on Wednesday morning.
In the somewhat dated vernacular, The Pope was
punk'd
and Valerie Jarrett, I believe ordered the guest list.
Valerie Jarrett allowed herself a victim for the wheels of any theoretical bus.
Jarrett admits that the administration has "a lot going on" but says "everybody's working cooperatively together" – especially the president's fourth social secretary in six and a half years, Deesha Dyer.
"She's a rock star! Let me tell you she's been planning all of these events for a very long time, both the Pope visit, the state visit with China, as well as the UN -- all of those fall under her portfolio," Jarrett said. "She probably has not slept in weeks. She'll probably be spending the night here tonight and she's just been performing terrifically."
The fawning boot-lickers of the American news media do as their told and so, sadly, will the gentle, gracious and good-hearted Pope.