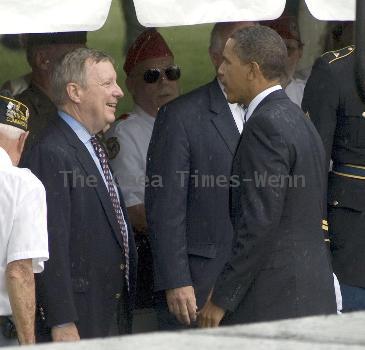 On Sunday, Obama's chief of staff said he was "madder than hell" about the reports regarding secret wait lists.
Federal auditors visited the Edward Hines Jr. Veterans Affairs Hospital near Maywood on Wednesday amid allegations by a socialworker that patients at Hines were kept on "secret waiting lists" so executives could collect bonuses linked to meeting standards for speedy treatment.
Germaine Clarno, president of the American Federation of Government Employees VA Local 781, first told CBS News in a report that aired Tuesday that "employees are coming to me from all over the hospital" with stories about secret waiting lists.
Will President Obama and Dick Durbin pop in to Hines VA Hospital in Maywood and good-news the Veterans?
Remember, this is the very same
Commander in Chief who ordered the WWII Memorial
closed to Honor Flight Veterans last November in a fit of Progressive political pique this past October.
The question is rhetorical, cynical and moot. The answer to the question above is
No. in thunder
.
Now, in the last few days, President Obama was shocked of news coming from a government, single payer, health care service operated for the sole care of American heroes - the VA - that women and men who served this nation in uniform were put on waiting lists and many died. He is mad.
Dick Durbin, no stranger to faux-rage and veteran himself, must be madder than a wet-hen.
Anger aside, Progressive Democrats must look to their priorities.
President Obama and Senator Dick Durbin
will fly in on Air Force One, land at O'Hare, transfer to one of four huge Marine Corps helicopters, fly to Northerly Island, land, limbo up and disrupt downtown, near north, near west, and near south side traffic and hog Lake Shore Drive in order to fill- the coffers with pay-to-playo-ah from
Gay Marriage Media Tycoon Fred Eychaner and some Chicago Green Capitalist.
*
These are Progressive priorities.
American veterans have single payer health care. The Veterans Administration Health Services is the new distraction from Progressive priorities,
The Obama Administration Transition Team ( Hope & Change 2008) was warned of serious systemic problems in the VA Health Care Services and those concerns flew in the face of Obama's number one and only achievement - ObamaCare.
Dick Durbin and President Obama will not visit Hines Hospital in Maywood.
They have their Progressive priorities in order.
*Chicago energy entrepreneur Michael Polsky and his wife, Tanya, and media mogul Fred Eychaner will host President Barack Obama when he comes to town next week for fundraisers for U.S. Democratic Sens. Dick Durbin of Illinois and Michael Bennet of Colorado.
The Polskys will hold a pre-dinner reception May 22 at their Gold Coast home. And dinner will be held at Mr. Eychaner's home in Lincoln Park.
Mr. Polsky, who a few years ago donated $8 million to the Polsky Center for Entrepreneurship at the University of Chicago, has been a supporter of Mr. Obama. He donated $25,000 toward Mr. Obama's 2009 inauguration.
Mr. Eychaner, CEO of Chicago-based Newsweb Corp., has donated more than $14 million to political action committees supporting Mr. Obama and Democratic causes.
The price of the reception ranges from $10,000 to $15,000 per person, with the higher price for those who want to co-chair the event. Dinner guests will be paying $17,500 per person. The high prices include photo ops. General admission tickets to the reception are $1,000.
AN OVERNIGHT STAY
I hear Mr. Obama's visit will include an overnight stay. Who knows whether he'll put his head on a pillow at his home in Kenwood, or at the Sheraton Chicago Hotels & Towers, where he stayed two years ago for the NATO/G8 summits.
Mr. Obama's return to Chicago comes on the heels of an April fundraising soiree for the Democratic National Committee.
For that event, he attended the home of Craig Freedman and Grace Tsao-Wu. Mr. Freedman is president of Freedman Seating, maker of bus and truck seats, and she owns Tabula Tua tableware company.
Mr. Durbin is assistant majority leader of the U.S. Senate and Mr. Bennet is chair of the Democratic Senatorial Campaign Committee. Mr. Durbin has no serious challenger, but it sure is nice to have a pile of money that only the president of the United States can deliver—just in case.
Follow Shia on Twitter at @ShiaKapos.
http://www.chicagobusiness.com/article/20140516/BLOGS03/140519814/polskys-eychaner-will-host-obama-at-fundraisers