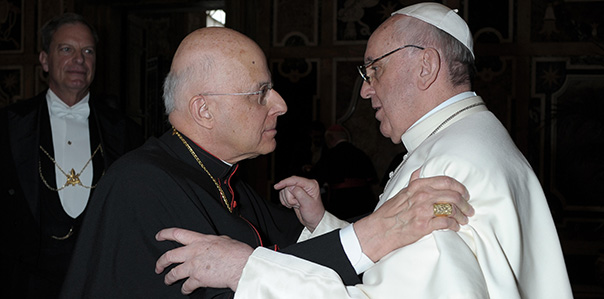 Cardinal George, Archbishop of Chicago*, past President of the American Conference of Catholic Bishops, internationally honored author and theologian, Oblate of Mary Missionary priest is no newspaper columnist and he certainly is no Progressive member of the Cook County Democratic Party, nor is he any way near a GOP tasseled loafer suburban fence sitter, like Senator Marque Kirque and gubernatorial candidate Bruce Rauner.
How can a scholar of sacred theology expect to reason with a Mark Brown**, an Eric Zorn, a Carol Marin, a Neil Steinberg, or a Proco Joe Moreno and maintain any semblance of moral high-ground? Recently these folks have opined upon the Secular Redemption of Milliken Don James St. James who merely slaughtered his entire family in 1960's served his time in the nut house, deemed clean, was released, advanced degreed, changed his name and lived anonymously among the folks as respected member of the academic community, not unlike Dr. Josef Mengele or other South Americans of post-Holocaust redemption. Columnist love this American Progressive Gatsby narrative. But that is Columnist Theology.
Today
, Mark Brown, one of the very few columnists who actually offers a semblance of a fair shake, recounts his 'cordial' exchange with Cardinal George concerning this summer's hoo-ha over Proco Joe and company's outrage in letter form protesting Catholic Campaign for Human Development's (CCHD) decision to no longer fund the Illinois Coalition for Immigrant and Refugee Rights( ICIRR).
Mark Brown wrote a searing column that burned the fibers of manly hearts that already agree with him on matters relating to same-sex marriage and scorched the muscles of that vital organ in the womanly breasts of maids and dowagers who equate bike repair with non-Euclidean sex and Civil Rights.
Cardinal George found fault with Mr. Brown's column; hence the 'cordial' dialogue.
George expressed his opinion that the funding cutoff "wouldn't have been an issue if we weren't in a campaign for governor."
That confused me a little, because I certainly would have raised the issue whether there was an election next year or not. The cardinal reiterated that his understanding is that some people want to use gay marriage as an issue in the governor's race.
I suggested it was his decision to halt funding from the Catholic Campaign for Human Development to the immigrant groups that made this an issue. He rejected that assertion, arguing that the leaders of the Illinois Coalition of Immigrant and Refugee Rights in effect cut off funding to their own member groups with the decision in May to endorse gay marriage.
You see, Cardinal; George is not only an episcopal and evangelical leader of the Catholic Church in Chicago, but he also happens to be a Chicagoan and someone who can and does read print.
To avoid any confusion, there is a race for governor. The signer of the hostile and historically damaging Illinois Civil Union Bill, Governor Pat Quinn, lost the May bid to make Same -Sex Marriage the Lincoln Log Cabin for his Reelection, chinking every crack with Progressively pious platitudes.
Quinn
is even more unpopular than his enemies who are growing up out of the ground from the dragon's teeth sown by the very forces that own Quinn's political soul - ( SEIU, Planned Parenthood, Dr. Quentin Young, Abner Mikva, the ACLU and Fred Eychaner). We now have Bruce Rauner, a billionaire buccaneer hopping out of Rahm Emanuel's vest pocket as a GOP standard bearer and Bill Daley who gave Rahm his first job. We have Kwame Raul as a wedge candidate to gobble up Quinn's African American base, if there ever had been such, and a cavalcade gimpy-wimpy GOP dependables.
Now, that is something to confuse one, Mr. Brown.
The Catholic Church has been sanctioned for fire bombing by the DNC, because of its implacable defense of the unborn and traditional marriage.
Cardinal George knows the political landscape and it is hostile. What passes for an evolved culture in this country finds the Gay Ann Landers, Dan Savage, to be a sober and thoughtful Catholic voice and it finds the certitude of ethical and moral principles just too mean for a queen. Mark Brown offers his last word on the matter
ex-cathedra,
or swivel seat, or easy chair in a
much less than cordial
manner. Mark Brown wants that to be his column's take away?
The cardinal acknowledged his own characterization of the pope's comments on gays may have been "jarring," as I put it, but he said he was frustrated by journalists missing the pope's point.
"In our culture, 'Who am I to judge' means nobody has the right to distinguish right from wrong," which wasn't what the pope meant, the cardinal said.
"He was saying that a person who has given up their sinful ways, you don't judge them. You accept them," George said. ". . .He started out saying: gay sex is wrong."
I told the cardinal I never believed for a moment that the pope was changing church policy toward gays, only setting a different tone that was missing from his own approach.
The cardinal expressed frustration that, in the current political climate, Catholics can't express their opposition to same-sex marriage without being regarded as bigots.
""When that becomes the criterion for accepting gay and lesbian people, then we're in the bind we're in now, which is a real bind," he said.
No - that is not what a
Sun Times
reader
must take away
from the 'coridal' exchange of the columnist and mere Cardinal. It is this.
"Nobody really expects the Catholic Church to change, only to adapt."
Millions of
European Jews
were told that very thing. Now,
that
was some lesson in social evolution . . . very scientific.
* Francis Cardinal George, OMI Education
Bachelor in Theology, University Ottawa
Master in Theology, University Ottawa, 1971
MA in Philosophy, Catholic University America, 1965
PhD in Philosophy, Tulane University, 1970
STD, Pontifical Urban University, Rome, 1989
Career
Ordained priest Oblates of Mary Immaculate, 1963, provincial central region, 1973—1974, vicar general, 1974—1986; coordinator Circle of Fellows Cambridge Center for Study of Faith & Culture, Massachusetts, 1987—1990; ordained bishop, 1990; bishop Diocese of Yakima, Washington, 1990—1996; archbishop Archdiocese of Portland, Oregon, 1996—1997, Archdiocese of Chicago, 1997—; elevated to cardinal, 1998; cardinal-priest S. Bartolomeo all'Isola, 1998—
Career Related
Vice president US Conference Catholic Bishops, 2004—; chancellor Catholic Church Extension University St. Mary of Lake, 1997; member Congregation Divine Worship, Discipline of Sacraments, Congregation for Oriental Churches, 2001—, Congregation Institutes, Consecrated Life, Societies Apostolic Life, Pontifical Commission for Cultural Heritage of Church, 1999—, Pontifical Council Cor Unum, 1998, Congregation Evangelization of Peoples, Pontifical Council for Culture, 2004—, Catholic Commission on Intellectual & Cultural Affairs
Creative Works
Author (pastoral letter): Becoming an Evangelizing People, 1997, Dwell in My Love, 2001
Memberships
Mem.: Am. Catholic Philosophical Association, Am. Society Missiologists
Religion
Roman Catholic
Address
Office: Archdiocese of Chgo Pastoral Ctr PO Box 1979 Chicago IL 60690-1979
** Mark Brown
Brown grew up in central Illinois, graduated from Northern Illinois University in 1977 and then attended the Public Affairs Reporting program at University of Illinois-Springfield, then known as Sangamon State, where he was a Sun-Times intern. Brown worked four years at the Quad-City Times in Davenport, Iowa, before joining the Sun-Times full-time in 1982.
At the Sun-Times, Brown worked mainly as a general assignment reporter specializing politics and government, which led him into investigative reporting. In September 2000, Brown began writing his column, which currently appears Tuesday through Thursday and Sunday. One of his strengths is that he has experience covering not only Chicago City Hall, but also Cook County government and the Illinois Statehouse.
Brown, a third-string high school basketball player, grew up obsessed with St. Louis Cardinals baseball, Chicago Bears football and Bradley basketball. Only Bradley has moved down on his radar, replaced by the Bulls.