Look at the birds of the air; they do not sow or reap or store away in barns, and yet your heavenly Father feeds them. Are you not much more valuable than they? Can any one of you by worrying add a single hour to your life? Matthew 6: 26-7
My job for the last month has been as a ranger - an Evergreen Park Recreation Driving Ranger.
This work for the Village of Evergreen Park is a huge help to me, as I have been out of work since January 26th.
During my search for work, my high school and Loyola University classmate, Evergreen Park Mayor James Sexton offered me this posting, God Bless him!
He made me a Driving Ranger at the glorious
50 Acre Park
located at 2701 West 91st in the western half of the legendary Evergreen Park Country Club. This south side jewel of a park includes
One of the best disc golf courses in Illinois
A state of the park dog playground
Walking paths over a pond with a fountain
A beautifful concert gazebo
A mini - farm and stable exhibit with three horses and squad of goats
A golf putting green and driving range
Mayor James Sexton is the real deal -
a Democrat with
the brains
to be honest, faithful and not beholden to big money, or trends. Evergreen Park sits next to Chicago, but is not a homicide blood sponge.
The media beefs about traffic stops on 95th street ( a vast commercial stretch of road with more shopping malls than a John Hughes movies), but never asks why, "Chicago has more killings, violence, robberies and burglaries" than the village that is wedged on three sides within its own borders. Evergreen Park is not Chiraq, let alone Chicago.
Evergreen Park pensions are fully loaded.
Evergreen Park Police and Fire Departments have high morale.
Evergreen Park schools are successful and peaceful
Evergreen Park cares for its residents
Evergreen Park love its Mayor
I became a Ranger on April 16th and proud to say so.
My obligations are these:
In The AM shift 6/7AM - 3 PM:
Start, drive and attach the
Kubota
vehicle to a a ball rake that resembles a farm disc-ing tractor attachment at the front the of vehicle. The rake is left far out on the range and requires a great deal ingenuity and luck to attach. That is most difficult task of the day - attaching the rake.
Then I spend two hours collecting range balls -in and out of the Kubota. Using a handy device that pops balls into a canvas bag. I wear a stout pair of Wellingtons, as the ground is always swampy due to our May Monsoons and the regulated sprinklers. My first AM shift, I thought that I was in the movie The Birds. I was being strafed by flights of birds the minute I shifted the Kubota into gear.
The disc-rake agitates the grass sending millions of tiny winged insects out of their morning ground-lairs and into the beaks of squadrons of Blue Jays, Finches and Robins. Jesus, I am St. Francis! Well, not so much to the bugs.
The range balls are disc-ed into four baskets on the rake and when full I transfer the balls to 5 gallon buckets with holes punched in the buttons to allow water to drain. I carry fifteen buckets in the bed of the Kubota.
Once all buckets are full, I detach the rake and head for the barn and begin washing the balls. This is an easy task thanks to Wittek 50 G Superbowl washer.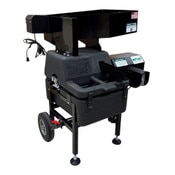 I put in a scoop of Borax ( the product sold by the real Old Ranger on Death Valley Days) and fill the tanks with water. I turn on the agitators and cleaning wheels and in fifteen minutes thousands of balls are as clean as a Lithuanian sidewalk.
I then take the fifteen buckets of cleaned balls and re-load the token operated ball machine.
Now, I set up the range
Old Glory is unfurled and placed
Umbrellas are placed at the tables
Yellow flags go in the holes of putting green
Heavy Green Ball basket stand placed near the edge of the parking lot
Roadside signs are adjusted to open
At this point, I return to the office and count the bank drawer, count 59 tokens, sign the work shift's work sheet, open the windows and serve the public.
Then I restock water, beer/wine and pop; put out the candy and Slim Jim displays and get the hot dog steamer ready.
On the PM shift, I begin where the AM shift ends. I sell tokens and comestibles -eats and drinks. Clean counters and tables. The only difference is closing out.
We sell small baskets of balls (45) for $ 5.00 and large (90) for $10.
This is a great little job and very well-suited to a Catholic high school teacher, who is finished with Catholic high schools.


I did not know what I would do, other than work again.
But, God and Jimmy Sexton taught this Old Ranger a lesson that he had forgotten. The lesson I witnessed on the Kubota and in Matthew's gospel - "Therefore I tell you, do not worry about your life, what you will eat or drink; or about your body, what you will wear. Is not life more than food, and the body more than clothes? Look at the birds of the air . . ." Look outside the cab of the old Kubota!